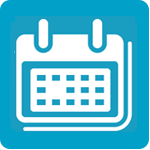 The built-in organizer and reminder will always remind you of an important event or meeting. Only the owner of a VIPole account can open the organizer and decrypt the data. No unauthorized persons will know about scheduled meetings or important reminders. Any reminder in the VIPole organizer is encrypted with encryption keys, which are known only to the owner of an account.
Daily planner feature highlights

Reminders of the events in the calendar
Set reminders of scheduled meetings or important events, assigned to a specific date and time.

Publish reminders to contacts in contact list
VIPole makes it possible to set reminders for the contacts from your contact list and remind them of scheduled events.

Setting the reminder frequency
Reminders can be one-time or recurrent. They can also include pre-notifications of approaching events.