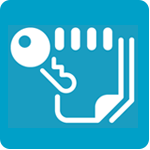 VIPole offers the built-in extension for password storage, where all the data is securely encrypted and protected against unauthorized persons. You can access this data at any time when it is required. VIPole ensures convenient and secure storage of passwords on the computer. You can use the VIPole password manager to store not only passwords, but also PIN numbers for mobile phones, bank card details, keys and certificates, account information for access to websites, social networks and mail services.
Password manager feature highlights

Backup copies and synchronization
Passwords, which you store within VIPole, are protected against theft and loss through automatic synchronization with the server in encrypted form.

Sending password records from the password manager to contacts
To send a password record from your password manager, just drag it to the user's name in the contact list.

Sorting password records by group
For easy sorting of password records group the passwords into separate directories.

Automatic copying of data
To copy the required login or password, just click on the relevant field within the password manager, and the record will be automatically copied to clipboard.

Password generation
VIPole also offers a tool for the generation of hack-proof passwords, which you may require for registration in different services.

Unlimited number of records
VIPole makes it possible to enter an unlimited number of records in the password manager. To quickly find a required record use the built-in search option.